SW Road Trip - Day 2
Day 2: Montecello, UT to Page, AZ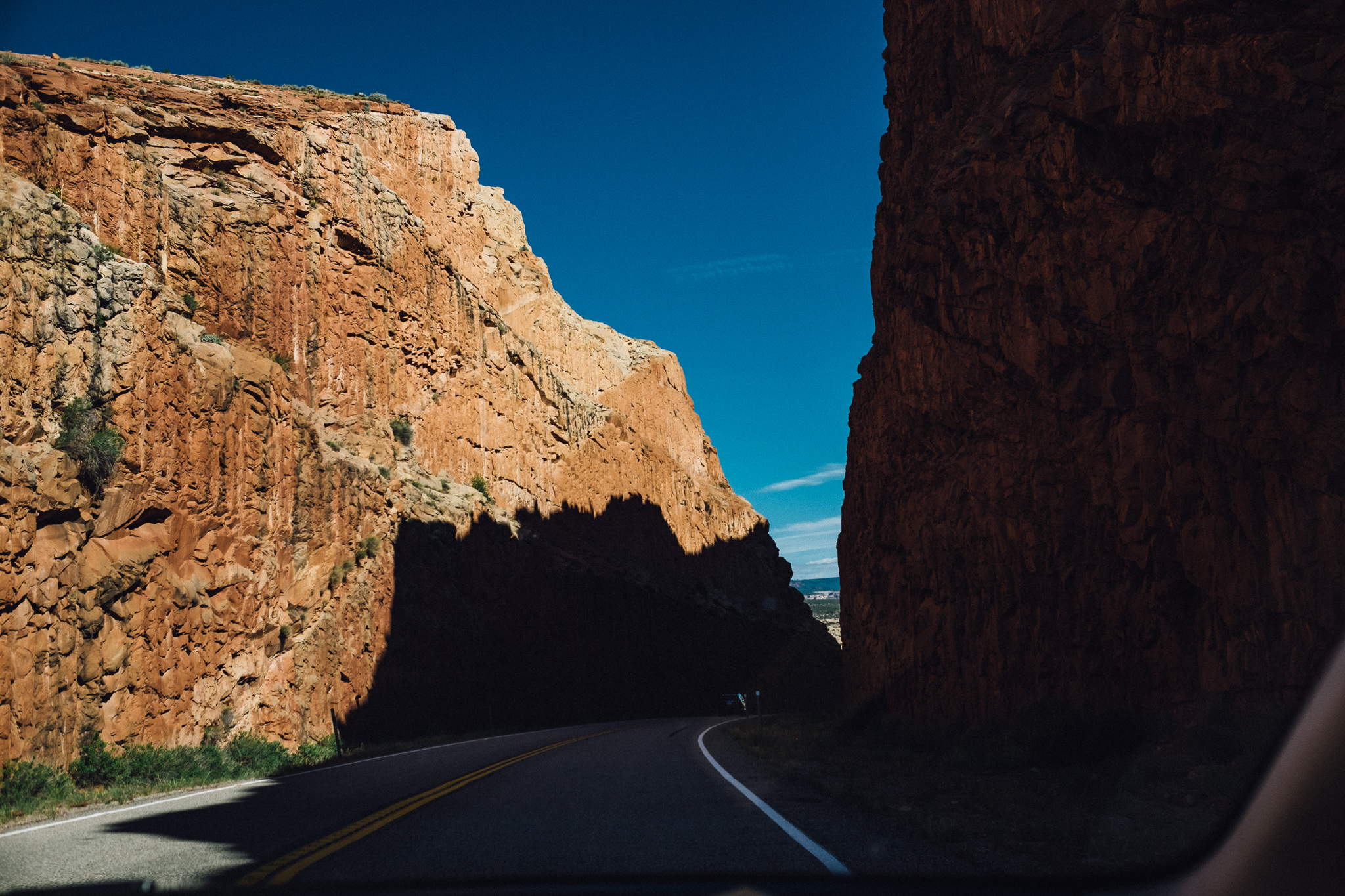 The extra miles from the night before put us a little ahead of schedule as we headed south on 191. We packed so much into today, looking back on the photos I have no idea how we did it! Natural Bridges National Monument was just a little side trip off the main highway so we swung though. The landscape was flat rock with a deep canyon that carved down through the layers and created several rock bridges across. The largest measured something like 260' across.
From Natural Bridges we took Hwy 261 back to 191. The Moki Dugway cliff to Valley of the Gods was one of the most dramatic roads of our trip. A series of gravel switchbacks that drop 1200 ft over 3 miles down to the valley. Moki comes from the Spanish explorers name for the Pueblo indians of that region and a Dugway is a road carved into a hillside. I highly recommend this drive.
A long, straight stretch of road aims you right at the tall plateaus of Monument Valley. The Navajo Tribe operates Monument Valley Navajo Tribal Park which has the best views of the monuments and a 17 mile drive around their bases. Be warned though, the loop road is rough, very rough in places. We managed in the Ford Focus and there were plenty of foreign tourists in rented Mustangs, but something with more clearance and grip would be better. You can also get a tour on the back of converted pickup trucks. Looked less stressful than driving yourself, but very dusty.
Antelope Canyon is also run by the Navajo Tribe. To see it, you have to sign up for a guided tour. We had a great local tour guide and were in a group with a Spanish couple and a few from a larger French group. Also lots of Chinese Tour Groups. The canyon its self was impressively deep and narrow. Metal stair cases had been fit into the sand stone to help navigate elevation changes, but for the most part the bottom was fine sand. The mid-afternoon light was bright at the top, orange darkening to almost purple at the bottom.
Glen Canyon Dam in Page was a quick stop on our way through Page on the way to Horseshoe Bend. Also a preview of Lake Powell where we planned to camp at Lone Rock Beach.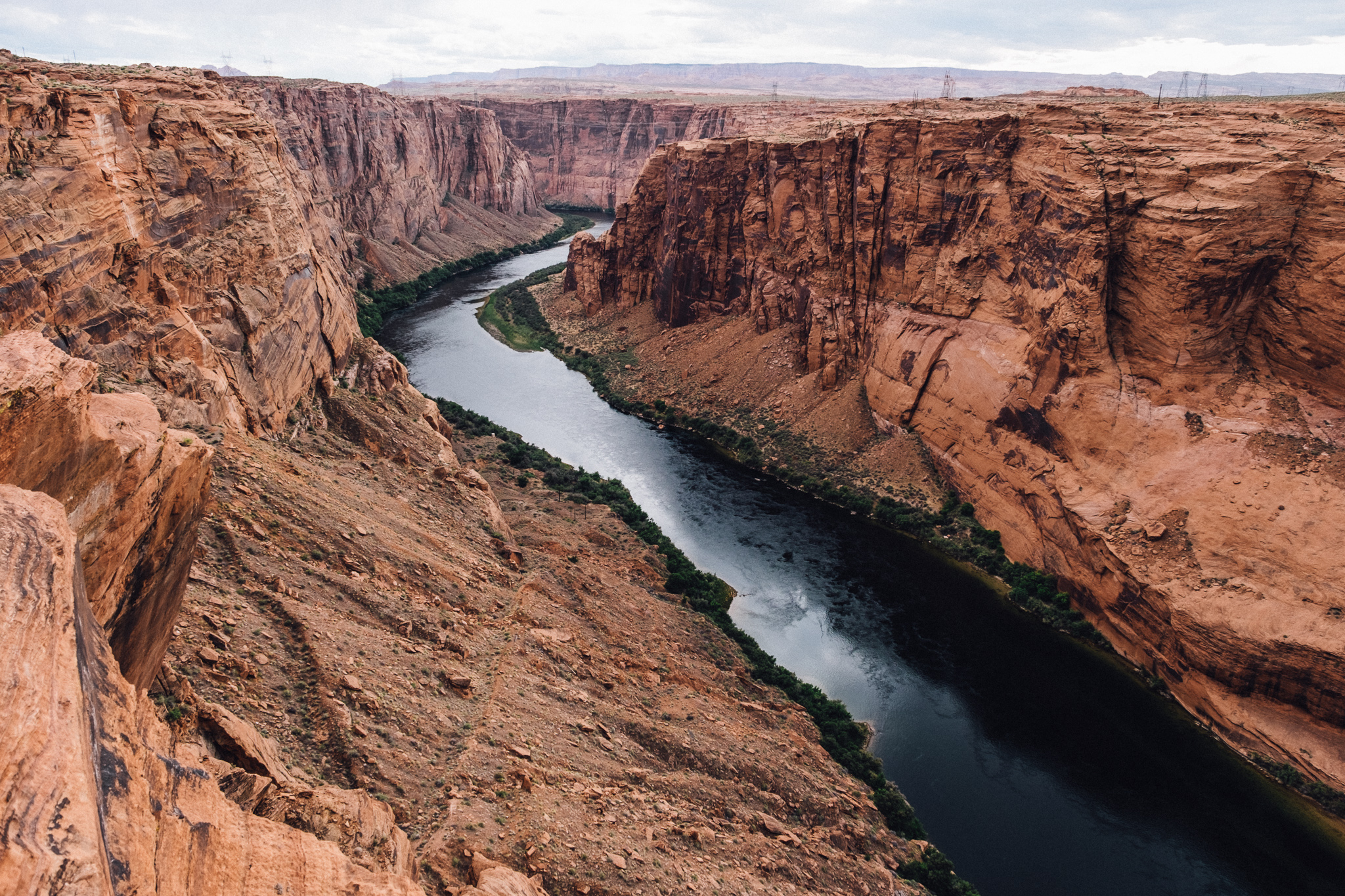 Horseshoe Bend at sunset was crowded as its very accessible and so dang beautiful. Its a short hike uphill from the large lots right outside Page. The sunset and colors of the place were incredible, the green-blue river a thousand feet down was lush contrast to the orange earth. My lens was not wide enough to describe this place, you need to see it with your own eyes. We planed on cooking dinner here, but as the sun set the gnats chased us back to the car.
Lone Rock Beach is just north of Page and we arrived after dark so it took a little while to get oriented. Its open camping and for $15 people can park RVs or set up camp any where they want along the wide rocky beach. We found a quiet spot next to a ravine to pitched the tent and cooked up some soup and grilled cheese with cheese sticks we picked up in Page.